Unique gifts for sports fans! Order a round or heart-shaped wreath. Licensed team fabrics are combined with coordinating cottons.
Pictured above: Santa Clara, CA, 4th grader Skarlette learned how to make a wreath and completed one in about an hour at the Santa Clara Library Holiday Craft Faire. She came to the faire to help her mom, Sophina, sell items. Between shoppers, Skarlette made her wreath, and her mom did her knitting.

100% Recycled Plastic Bags Wreath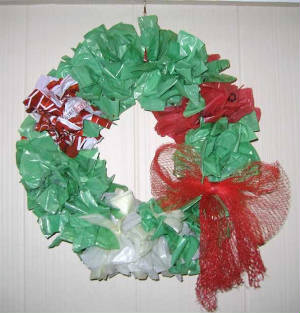 All you need is a coat hanger & the plastic sleeves your newspaper comes in on rainy days.
How to make a Fabric Wreath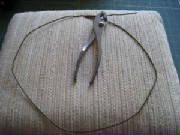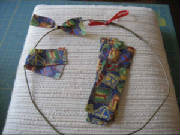 Materials:
1 yard of fabric total or 15 – 20 plastic bag sleeves your newspaper is protected by on rainy day,
1 wire hanger, & short piece of ribbon
1. Use pliers to help shape wire hanger into a circle.
2. Tie a short ribbon at the top for hanging.
3. Cut fabric or plastic bags into 1-1/2" X 7" strips. The fabric wreath pictured uses 1/3 yard each of
three different fabrics.
4. Tie strips around the hanger in any pattern you like. Just tie once, pulling ends securely.
5. The bow on the plastic wreath is made from a mesh bag that oranges came in and secured in
place with a grocery store tie band.

Click on photo of James making his first wreath to go to Holidays page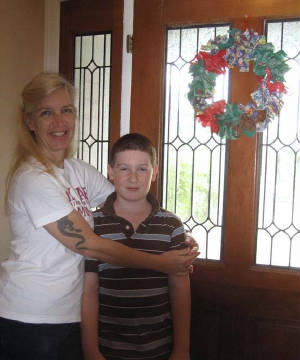 100% recycled plastic bags wreath
Suzy Paluzzi from Cupertino with her new holiday wreath. Click photo to enlarge
"What's distinctive about this wreath is that it makes creative use of recycling materials," says Suzy Paluzzi from Cupertino. "I liked it when when I saw it on the website, but I was even more impressed by how it looked when I got it. This is twice as nice."
Suzy hung her new wreath on her front door.
Burlap wreath made by Arlene's granddaughter Lori
Fabric Wreaths are $25 - $35, depending on size & fabric.
Questions? Comments? Orders! Use the form below. We will bill you. Payment information is secure using Pay Pal or Square.