Great gifts!
Fits in purse, pocket or glove compartment
About 17" X 17"
Folds to 3" X 4 1/2"
Washable cotton
Velcro strap closure
Enclosed French seams add strength

For light/moderate-weight loads
$20 each
Click on photos to enlarge.
Money Bags / Going Green Roll-up Shopping Tote
Charles Schwab & Co Financial Consultants Jamie Cornford & Kelly Van Winkle
Order: Money Bags or Going Green!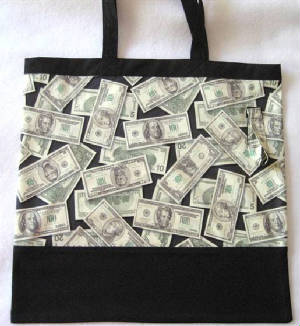 You don't have to be rich to have fun carrying this 100% cotton 17" X 17" tote/ folds to 3" X 4 1/2"
French Fabrics! Click on photo for other fabrics.

Pretty & Paisley

Pictured above: Santa Clara, CA, 4th grader Aditya with his dad, Ashok, at the Santa Clara Library Holiday Craft Faire. Aditya says he chose that particular roll-up tote for himself "because I like birds, and I like red."
How to fold your shopping tote- click to enlarge.
E-mail info@toteyourstuff.com for printable directions.

Above: Return customers Tami Hansen and her daughter Karyn stocked up on additional folding shopping totes at a Santa Clara Central Park Library craft fair.
"I like that they're small, and I can carry it in my purse," says Tami. "They're useful and easy to use."
"We love them. They're pretty designs, not ugly like the store ones," says Karyn.
Wine Country Village with Grapes, Wine Glass & Bottle
Questions? Comments? Orders! Your credit card payment information is secure using Square or PayPal.
What was the first U.S. city to ban plastic bags?
San Francisco, CA, in 2007